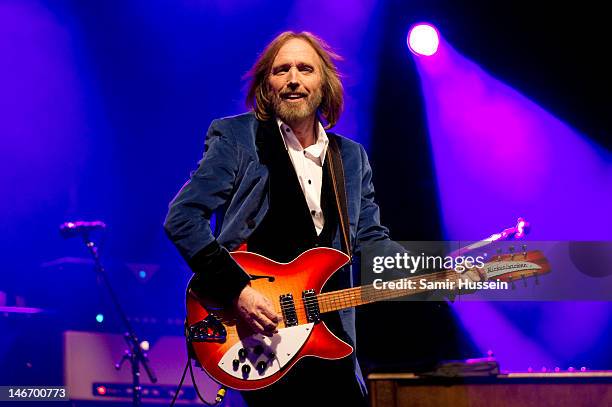 Tom Petty passed away this past Monday, October 2nd. According to a statement by the band's manager, he suffered cardiac arrest at his home earlier that day. He was taken to UCLA Medical Center, and died at 8:40 PM that night, surrounded by his family and friends. He was 66.
Tom Petty was born in Gainesville, Florida, where he met the friends that would eventually become the Heartbreakers. Their self-titled first album was released in 1976, spawning singles like "Breakdown" and "American Girl" that are still played in bars and on the radio today. The band continued to ascend in fame until they reached superstar status with Damn the Torpedoes (1979), which went platinum the next year. This album added more songs to the American songbook, like "Refugee" and "Don't Do Me Like That." This success was continued with Hard Promises (1981), and singles like "The Waiting" and "A Woman in Love (It's Not Me)" made Petty a stadium-filling rock star.
Petty continued to have a string of hits in the 80's with the Heartbreakers, including "You Got Lucky," "Don't Come Around Here No More," "Rebels," and "Jammin' Me," the latter of which was written with Bob Dylan. Together with Dylan, George Harrison, Roy Orbison, and Jeff Lynne, Petty became a member of the supergroup the Traveling Wilburys, releasing their first album in 1988. The next year, Petty released his first solo album, Full Moon Fever (1989), which featured songs like "Yer So Bad," "Runnin' Down A Dream," I Won't Back Down," and possibly his most famous, "Free Fallin'."
Petty opened the 90's with the second Travelling Wilburys album, jokingly titled Vol. 3 (1990). The next year Petty and the Heartbreakers released Into the Great Wide Open (1991), and then another solo album (Wildflowers, 1994). Through the rest of the 90's and the 2000's Petty continued to release albums sporadically, including a solo album, Heartbreakers albums, and albums with his childhood band Mudcrutch. Despite not releasing as frequently as they used to, the Heartbreakers continued to tour constantly around the country and the world up until the week before his death, playing the last show of the band's 40th anniversary tour.
Remembrances have been pouring in since Petty's death, from both his peers and those he influenced. Bob Dylan told Rolling Stone "I thought the world of Tom. He was a great performer, full of the light, a friend, and I'll never forget him." Artists as varied as Miley Cyrus, The Killers, Wilco, and Father John Misty all performed covers of Petty's songs in the wake of his passing. Jason Aldean opend Saturday night Live this past week with a performance of "I Won't Back Down."
Although Tom Petty has frequently been left out of conversations about the titans of classic rock, Petty's constant stream of hit songs for the past 40 years have more than earned him a seat at the table. While he touches on many topics that are ubiquitous throughout rock, such as love and heartbreak, he paved his own way with albums like The Last DJ (1999), which featured numerous songs that take down the record industry and the greed behind the manufacture of pop stars. He also experimented musically, starting as straight rock and roll, and spread out to synthesizers, strings, folk. His influence on music today is unmeasurable, and he will forever be remembered not just by students of music history, but by the fans whose lives he touched.