Hello Coog Radio readers. We wanted to update you on our coverage of Astroworld Festival 2021.
Coog Radio sent two members of our organization to Astroworld this year, Brandon Smith and Morgan Rosenbaum. Thankfully, neither of them were in a dangerous area of the crowd and both are safe and uninjured. We are also thankful to report that the rest of our Center for Student Media friends were not harmed during the festival.
We are sending our condolences to the families and friends of those who were injured and the 8 who lost their lives during the festival. This is a link to GoFundMe's Twitter post which lists verified fundraisers for those who were injured or killed at Astroworld. We encourage you to support these families if you can.
Below is a screenshot of Astroworld Festival's social media statement, as well as a video posted to Travis Scott's Instagram on November 7, 2021. These statements can also be found on their Instagram and Twitter. If Travis Scott or Astroworld Festival release any other statements about the festival, we will add them below. We will not be posting any other content, review or otherwise, for Astroworld Festival 2021, aside from this short article.
Astroworld Festival's social media statement: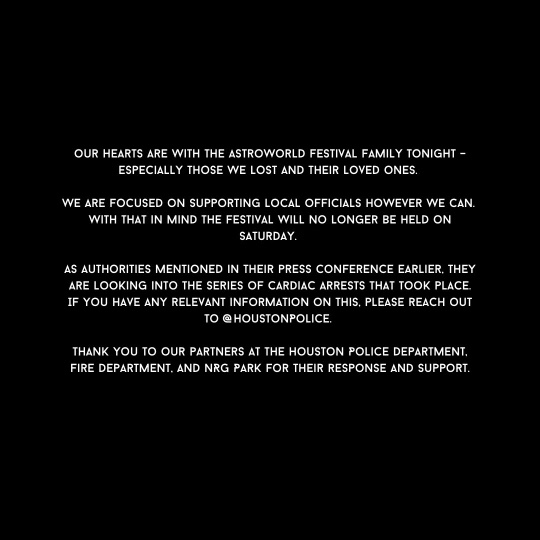 Travis Scott, posted November 7, 2021 to his Instagram:
Hi! I'm Jura, the current Station Director for Coog Radio. I love music of all kinds, and album reviews are my favorite content to make. My favorite genres at the moment are shoegaze, Japanese electro-jazz, and 90's-2000's hip-hop. I'm also a full time student, working on my Bachelor's in Psychology with a minor in Law, Values, and Policy. Outside of school and Coog Radio, I also work as a Bartender/Server at Pinstripes Houston.
I'm so glad you've chosen to visit our station's website, coogradio.com! Keep tuning in to see some new updates coming over the summer 😉 Get on our wavelength!